"Verdes Anos" a piece composed by Paredes
... of Coimbra
... of Fado in Coimbra
... of Verdes Anos
... of the Academic Cry (FRA)
... of Coimbra, also called the Portuguese Athens
Capital of Portugal for more than 300 years, Coimbra is still today the cultural heart of the country. It is quite well known for its Photography and Jazz festivals, but it is mostly recognized abroad for its 800 years old university.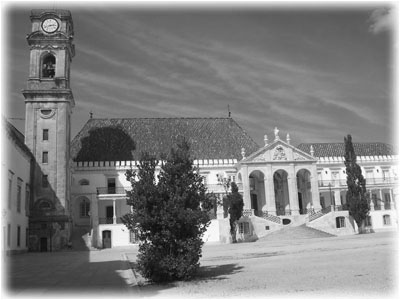 This fado is closely linked to the academic traditions of the University of Coimbra; both the singers and musicians wear the academic outfit (traje académico): dark robe, cape and trousers. It is sung at night, almost in the dark, in city squares or streets. The most typical venues are the stair steps of the Santa Cruz Monastery and the Old Cathedral of Coimbra . It is also customary to organize serenades where songs are performed before the window of the woman to be courted.
The Coimbra fado is accompanied by either a Portuguese guitar or by a classical guitar. For a historic account and acoustic principles of the Portuguese guitar, please visit our guitar page.
The most sung themes: student love, love for the city and bohemia, and the ironic and critical reference to the discipline and conservative nature of the professors and their courses. Noted singers of this style are Augusto Hilário , António Menano , and Edmundo Bettencourt .
In the 1950's, a new movement took the singers of Coimbra to adopt the ballad and folklore. They began interpreting lines of the great poets, both classical and contemporary, as a form of resistance to the Salazar dictatorship. In this movement names such as Adriano Correia de Oliveira and José Afonso (Zeca Afonso) had a leading role in the revolution taking place in popular Portuguese music.
Regarding the Portuguese guitar, Artur Paredes revolutionized the tuning and the accompaniment style to the Coimbra fado, adding his name to the most progressive and innovative singers. Artur Paredes was the father of Carlos Paredes , who followed and expanded on his work, making the Portuguese guitar an instrument known around the world.
Some of the most famous fados of Coimbra include: Fado Hilário , Saudades de Coimbra ("Do Choupal até à Lapa"), Balada da Despedida ("Coimbra tem mais encanto, na hora da despedida", the first verses are more recognizable than the song title), O meu menino é d'oiro , and Samaritana .
VERDES ANOS performed over 800 concerts since 1996
The group was Verdes Anos formed in 1996 and all the members met at the corridors of AAC. Named after a song by Carlos Paredes, Verdes Anos is the result of a deep connection of it's elements to the academic and cultural life in the city of Coimbra. Verdes Anos have performed in several cultural events all over Portugal (ex. Euro 2004, Coimbra-National Capital of Culture, Lisbon World Exhibition Expo98 , TV and radio broadcasts, concert halls, tributes to personalities related to music from Coimbra, etc) and abroad (performances in France, Italy and Macau, representing the city's culture as well as tours in Germany, Spain and Japan).
in the Press
The guitar players and the singers gave their talent and soul at Gallery Almedina. In the audience, punctuated by some foreign tourists, people were trapped by the mystical night of Coimbra, surely thinking that this city reveals its charm in every moment you spend there

in Público

The group Verdes Anos showed a remarkable maturity of interpretation, which currently places them as one of the best performers of Fado of Coimbra.

in Diario de Coimbra

The shy musician, who blended up to then with other performers in the tribute to Luis Goes, stood forward almost anonymously. Luis Barroso, guitar player of VERDES ANOS Fado group, performed Balada do Mar (Ballad of the Sea) with such skill that amazed the audience and the composer. "No one performed this piece so brilliantly before", said Luis Goes.

in Jornal de Notícias

VERDES ANOS musicians share, along with the musical talent, the effort of giving continuity to the music of Coimbra by introducing new elements into the music, still being influenced by masters such as Artur Paredes, Carlos Paredes, Edmundo Bettencourt, Luis Goes, and Zeca Afonso.

in Jornal de Coimbra
Places that hosted concerts in Portugal (since 1998) :
Albufeira, Almada, Amadora, Anadia, Angra do Heroismo(Açores), Arruda dos Vinhos, Aveiro, Borba, Bragança, Bussaco, Caldas da Rainha, Caminha, Canelas, Cantanhede, Castelo Branco, Castro Verde, Celorico da Beira, Coimbra, Covilhã, Curia, Ericeira, Espinhal, Estarreja, Estoril, Estremoz, Fafe, Faro, Ferreira do Alentejo, Figueira da Foz, Fornos de Algodres, Fratel, Guarda, Íhavo, Lageosa do Mondego, Leiria, Lisboa, Mafra, Marco de Canaveses, Mealhada, Meda, MesãoFrio, Moimenta da Beira, Montijo, Nisa, Oeiras, Oliveira de Azeméis, Ourém, Ourique, Penela, Penela, Podentes, Portel, Portimão, Porto, Portunhos, Praia da Victória (Açores), Praia das Maçãs, Praia de Pedrogão, Quiáios, S. João da Madeira, S. Paio do Mondego, S. Pedro D'Alva, S. Pedro de Sintra, S. Pedro do Sul, Santa Cruz da Trapa, Santarém, Sesimbra, Sintra, Sintra, Vila Flor, Vila Nova de Gaia, Vila Nova de Paiva, Vila Real de St. António, Vila Velha de Ródão, Vilamoura, Vimioso
Abroad (since 1998) :
Italy –Performance in Padova at Santo António's Basilica, representing the city and the University of Coimbra.
Macau – Performances in several places in cooperation with the Taipa's City Hall, Coimbra 's City Hall and Fundação Oriente.
Japan – Performances in Tóquio, cooperation with the Portuguese Cultural Center.
Japan - Workshop on the Portuguese Guitar.
Germany - Portuguese Guitar concerts in Berlin and Hamburg.
France - Concert tour in the region of Aix-en-Provence
Spain - Concert tours in Catalonia
Cooperation with the media (selection) :
Radio Maiorca (1998) – Live performance and debate about "Importance of the Balad Singers in Portuguese Music" .
Radio Macau - (1998) - Live performance, connected with the visit of Verdes Anos toMacau ''.
Rádio a5 (Rádio Regional do Centro) (1998) - Performance from Quinta das Lágrimas in Coimbra.
RTP (Portuguese public television)(1999) – Show "Praça da Alegria" with live performance from 8 de Maio square in Coimbra.
Japanese TV (1999) – Recording of DVD about Portugal edited by ICEP-Tóquio, in which VERDES ANOS represent Coimbra and Portugal in Japão.
Rádio Universidade de Coimbra (Junho/2001) - Presentation of our latest work in the show "Canções para quase todos".
Since 1938, an academic cry know as the "FRA" is commonly perfomed by the students in different occasions as an expression of joy and unity of the academy. It is also the end point of the monumental fado serenade, while fado players seat on the staircase of the cathedral, causing a beautiful landscape of colour in the crowd corresponding to the waving stripes of the final ear students.